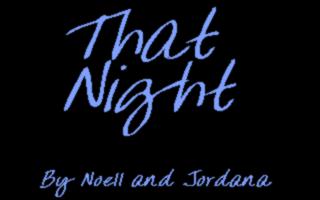 Imagine a place so desolate where you would never have thought you would find another friend. Imagine the night that you do. In That Night you find three guys from Tulsa who have yet to be labeled the boys of "mmmbop." Here's the catch, it isn't 1995 pre-fame, it's 2000 pre-fame. That Night is an original co-written, two-sided story unlike any other fan fic you will ever read.
This story is realistic fiction, meaning that it actually happened, however, at the same time, it didn't happen. The events are based on true actual events, yet it's still a fictional story. Confused? Don't worry, we won't blame you.
Anyway, That Night is told from two points of view. Julia and Nicole.

The Chapters
Chapter One

"I'm in Love with a 14 Year Old!"

Chapter Two

The Note

Chapter Three

Brave New World

Chapter Four

The Mommy Police

Chapter Five

Sneaking Out

Chapter Six

Stars

Chapter Seven

If Only




More Coming Soon!!




Sign the guestbook to let us know what you think/thought! Or leave any questions or comments! We'd love to hear your feedback :)

View Our Guestbook
Sign Our Guestbook

Want to know more info about the authors? Contact us!
Noell and Jordana
. . . or visit personal sites . . .
Noell's Personal Site and Jordana's Personal Site